Live Well Wellness Retreats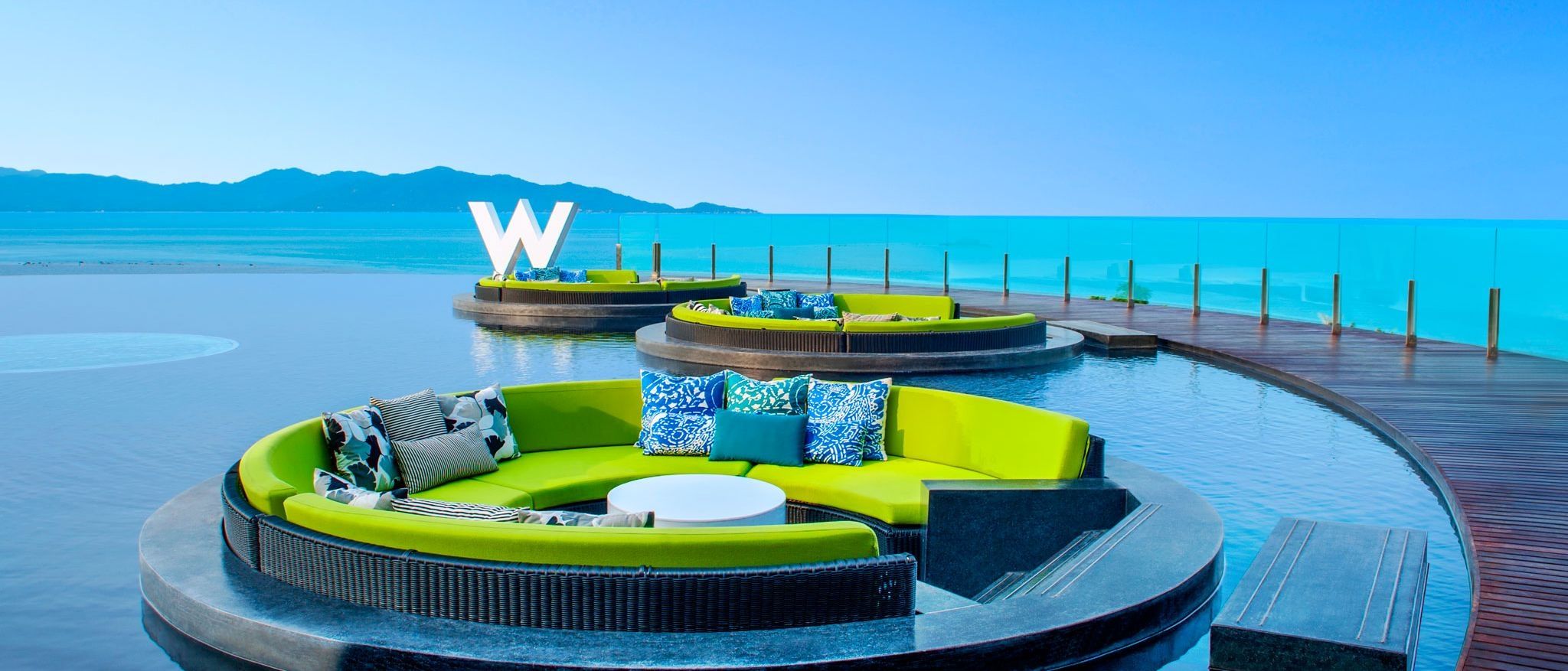 Stay awhile. The collaborative designs of acclaimed Thai firm P49 Deesign and Maps Design Studio invite you to relax, rejuvenate and revitalize at W Koh Samui, where golden sands meet unspoiled waters. Lounge at WET®, our outdoor pool, or on the W Beach, where Beach Ambassadors tend to every need and watersport activities abound. Bond over a tennis match on our outdoor court or yoga session and Thai boxing course at FIT Gym. Or escape to AWAY® Spa, where natural healing therapies mingle with Thaimazcal® spa retreats, the only Mexican Temascal-inspired therapy offered at a hotel in Asia. 24/7 Whatever/Whenever® service. W Hotels – The Store even lets you take a piece of the island home with you.
Up your game at SWING. Set against panoramic views of Maenam Beach, our outdoor tennis court is available daily and is complimentary to hotel guests.
Come on in, the water's warm! A day at the beach has never been so cool when WAVE, our water sports and activity center, has this much fun in the sun to keep you busy even as you laze.
Inject your workout with state-of-the-art fitness equipment, exhilarating classes, energizing amenities and spectacular views of the glittering Gulf of Thailand at FIT Gym.
Here, pristine white sands unfurl before the dazzling azure allure of the Gulf of Thailand.
Bask in breathtaking views, tropical sunshine and refreshing waters at WET®, where inviting daybeds unite with energizing snacks and beverages from SIP.
Welcome to an escape within an escape. Disappear from the everyday at our AWAY® SPA, where nature-inspired décor synthesizes with soothing scents, sounds and restorative treatments.
Whatever/Whenever®, really. From an elephant ride to a romantic sunset sail to restaurant reservations, we're on it. All you have to do is push a button on your villa's phone. Anything you need. Just Ask.
Experience what's new and next at W Hotels Worldwide on your iPhone. W Hotels brings its signature sounds and insider access to all that is happening at our iconic destinations around the world. Stream music. Order in. Book your stay. Get the app.
Some of the services and facilities above may not be available on a 24-hour basis or without advance request. Fees on certain facilities/services may apply.