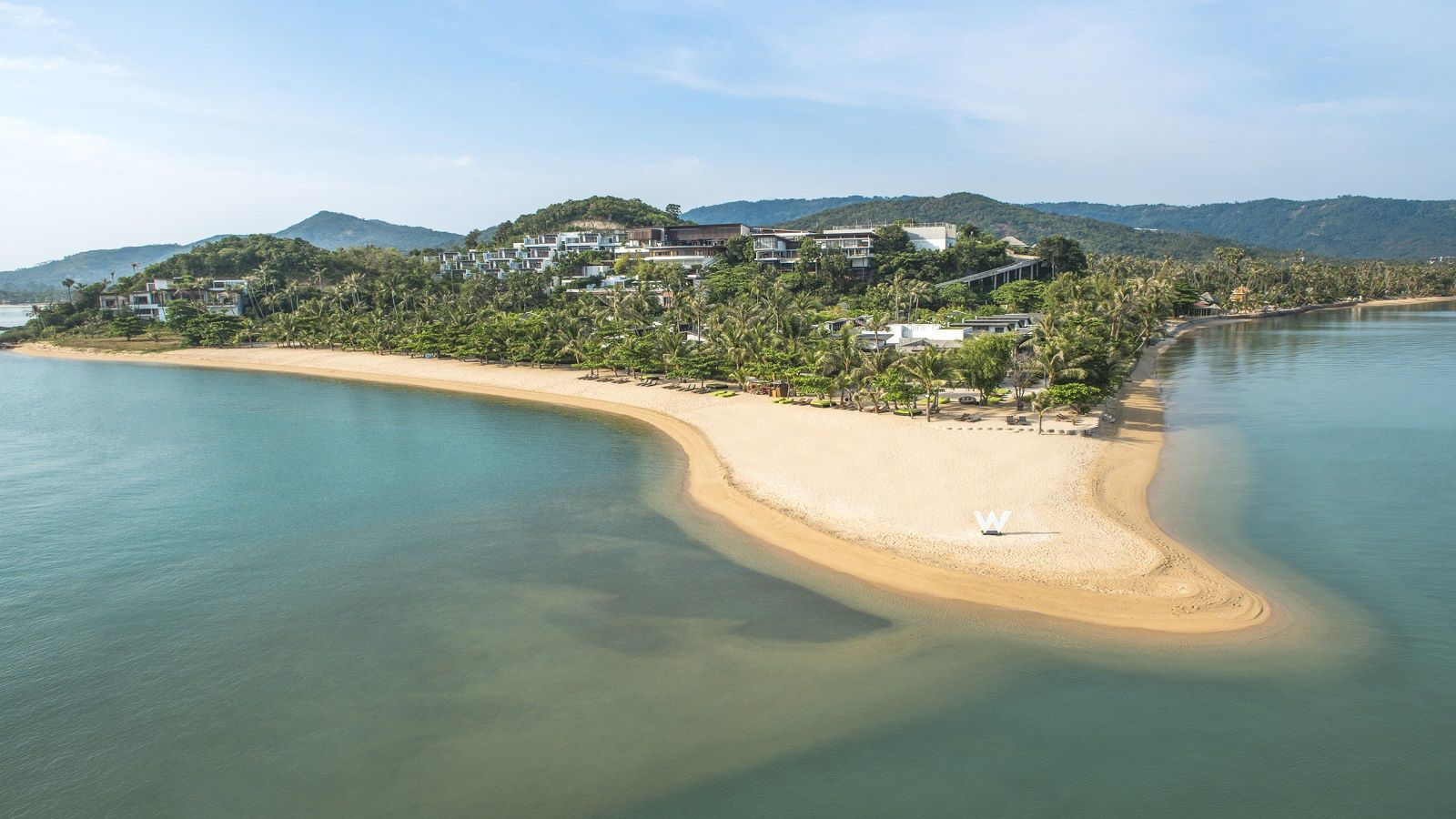 Travel to Koh Samui with ease. There are more than 50 daily flights on three airlines from Bangkok, Phuket, Chiang Mai, Singapore, Hong Kong and a host of other regional and international locations. Also, ferries frequently go back and forth between the island's Na Thon Pier and Surat Thani on the mainland.

From Koh Samui International Airport (USM)—a complex of open-air pavilions with thatched roofs surrounded by lush gardens and shaded by swaying palm trees—our Welcome Ambassadors will whisk you to W Koh Samui in signature WHEELS(SM) in just 15 minutes. Hired local transportation is also a safe and efficient way to get to the hotel.

Once on the island, rental cars are an easy way to get around. But there are also plenty of taxis and songthaews traveling between popular destinations. Just be sure to bargain for a good fare, which will be significantly higher after dark or between remote spots.
If you are traveling by car, please see driving directions, from the airport or any other location.
PARKING INFORMATION
Note: Estimated charges, fees and schedules are not guaranteed by hotel. Driving distance may be affected by local conditions and traffic.
GETTING HERE
PORT
Surat Thani Port
Travel Distance: Approximately 15.0 km/9.32 miles
Options for getting to and from the hotel include:
Ferry Service:
Ferries departing from Surat Thani every 30 minutes will get you to the island within 90 minutes. From Koh Samui's Na Thon Pier, it's easy to catch a taxi or Songthaew to the hotel, although expect several stops on the latter.
AIRPORT
Samui International Airport (USM)
Travel Distance: Approximately 8.0 km/4.97 miles
Options for getting to and from the hotel include:
Hotel Transfer Service
Relax. Our Welcome Ambassadors will meet you at the airport with signature W WHEELS and drop you at the hotel in 15 short minutes. Please contact Whatever/Whenever® in advance to arrange transfer services.
Mercedes Benz E Class THB 1,800 NET/ per way, per vehicle

Mercedes Benz GLE Class THB 2,400 NET/ per way, per vehicle
Toyota Ventury VIP Van THB 2,200 NET/ per way, per vehicle
Hours:24 hours
Travel Time:15 Minutes
Contact:(66) 077 915 999; Reservation Required
Taxis and Songthaews:
Taxis and songthaews—mini-buses converted from pick-ups—will get you to the hotel in true Thai fashion. When taking a cab, make sure to use one that is licensed. We recommend that you only take a songthaew if you are traveling light, as there is often not much room for several big pieces of luggage. Make sure you have agreed upon a price with the driver before committing to the journey.
Fee: THB 400-500 fare
Hours:24 hours
Travel Time:15 minutes
GETTING AROUND
BY CAR
Off-Road Vehicle
With an off-road vehicle, you can tour the entire coastline in under three hours. Koh Samui's main road, which is numbered 4169 and known locally as the "Ring Road," takes you over hills and through forests to the stunning landscapes on the northern and eastern shores. Whatever/Whenever® will be thrilled to get you started on your adventure with a map and recommendations to the island's main attractions and little-known hideaways.
BY TAXI
"Rod-Son-Theaw"
Call a taxi anytime or go local and hop onto a "Rod-Son-Theaw," a cab or passenger van that takes you all around the island. While cabs are readily available around the clock, Whatever/Whenever® will be pleased to help you arrange for special service.
Fee: Rates vary depending on the number of passengers and distance traveled or length of time engaged.
If you require transportation assistance, or if you have any additional requests, please click here or contact us at (66) 7791 5999